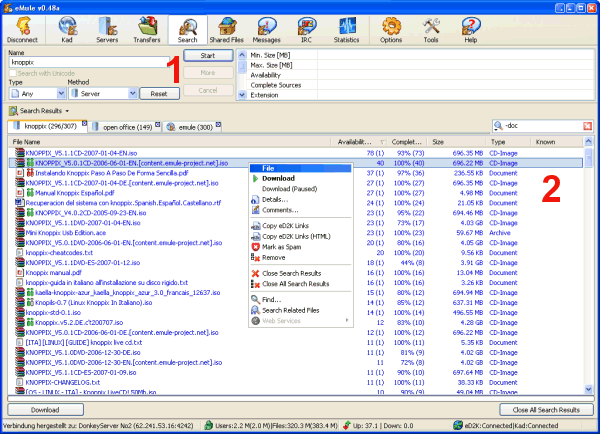 General
The search window helps you to find and start downloading the files your are looking for.
Details
The most simple way to search for something is to enter a keyword into the Name field on the search panel (1) , select the type of files you are looking for and a fitting method. If you are connected to the eD2K network you can choose between "Server" (local server) and "Global" (all servers), if you are connected to Kad you can select "Kad network" and in all cases you can try the (third party) web search "FileDonkey" as method. Which one you prefer if you have more than one available is matter of personal taste so just try them out. After a click on the Start button you are all set and eMule will start searching. Of course eMule supports much more complex searches which allow you to get better results, a detailed explanation on the search syntax can be found here.
The results are shown in the Search Results list (2), while the stronger the results are painted in blue the more sources are availabe in the network for those files. The completed column shows you how many of all available sources have this file completed already (for example 50% would mean that half of all sources are still busy downloading this file, while the other half are offering the complete file). A detailed description of all possible result colors can be found here (at the bottom), while possibly used icons are explained here.
You can see more details or remove single results with the context menu. Also if you feel that a result is spam which was sent by a malicious server (for example advertising for some adware which is not related to your search), you can click the "Mark as Spam" entry and eMule will try to single out such results in the following searches.
The filter box on the top right allows you to filter search results on-the-fly. Just enter the word you want to filter for (or use a "-" to exclude this word) and eMule will hide all other results untill you reset or change the filter.