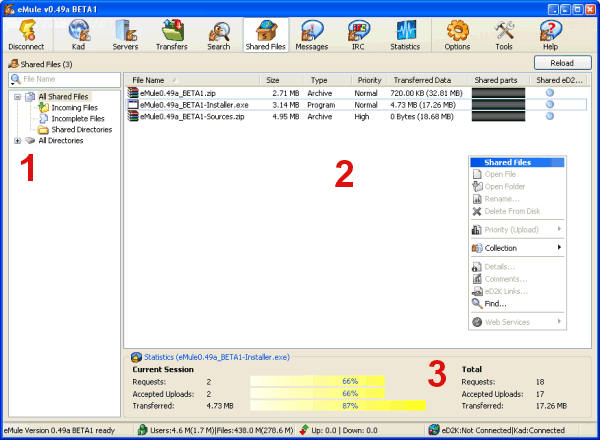 General
The Shared Files window provides an overview of all files you publish in the eD2K or Kad network.
Details
The tree on the left (1) side lets you select which kind of shared files you want to see as well as offering the possibility to share and unshare directories. "All shared files" shows you - like the name indicates - all files your eMule publishes, while "Incoming Files" only shows finished files which have been moved to your incoming folder, "Incomplete Files" shows your current downloads which are shared by eMule and "Shared Directories" lists all additional directories and files which you have chosen to share.
"All Directories" on the other hand contains all available partitions and directories on your harddrive. A bold written entry means that some subdirectory of this entry is a shared folder while a red checkmark indicates that this item itself is a shared folder. You can share new folders by dragging them into the "Shared Directories" entry or using the context menu and unshare them the same way. Note that all files in a directory you share are available for everyone to download, so make sure to not share directories which contain personal informations or other things you don't want to share with the public.
The filter box above the tree lets you filter the shared files by any keyword on-the-fly in case you are trying to find a specific file (all filtered files are still being shared).
The list on the right (2) shows the shared files you have selected (see above) and lets you manage them. You can change their priority, which tells eMule to upload them more or less often to clients who request them, you can see details about each file and you can also write comments to describe the content which helps other users to figure out if this is the file they want. eMule also lets you create collections which are basically links to several files put into one index file, making it easier for others to download a series of related files because they don't have to search for each file seperatly but only for the collection.
You can see statistics about the selected file in the Statistics box (3), which visualizes how many times a file has been requested and uploaded compared to other shared files. "Current Session" describes the timeperiod since you started your eMule the last time, while "Total" includes all known statistics for this file.